This Book has been selected as The #BookOfTheMonth by Wonder's Book Blog for the month of March 2019. Congratulations to the Author! 
Book Name-

The Heist Artist
Author-

Vish Dhamija
Publisher-

Harper Collins 
MRP-

Rs. 299
Pages-

272
Format-

Paperback
Genre-

Thriller
ISBN-

978-9353026028
Release Date- 

3rd February 2018
My Rating-

5/5

Blurb-
Vagh Pratap Singh aka the Captain is a conman extraordinaire. From transporting illegal merchandise and stealing cars to breaking safes, he's done it all. But now, in his fortieth year, he's ready to retire. So when Udham Kumar, a crooked politician from Uttar Pradesh, commissions the Captain to track down and steal Poppy Flowers, a Vincent van Gogh's painting that has been smuggled into India after it went missing in a museum in Egypt in 2010, the Captain knows that he's found his last, and biggest case. But the painting is now in possession of a dangerous gangster, and the Captain is being followed by Udham Kumar's ruthless associates, greedy for both money and power. As the odds against him begin to stack up, the Captain realizes that his last heist might not be as easy as he'd imagined.
Review-
Vish Dhamija, who is the master-storyteller in the legal thriller genre of India, decides to write in a genre which is rarely explored in India inside this book. The Genre, it is actually a sub-genre, I am talking about is the Art-And-Architecture-Thriller Sub-Genre. The best example for the Art-And-Architecture-Thriller Sub-Genre is Dan Brown. Few Indian authors have written books on Architecture before, like Ashwin Sanghi, but nobody, I read about, has ever written thrillers based on art. Apart from this uniqueness, there is another uniqueness in this book that it is not written like a normal thriller. It is written in a new way in which the events are described from various viewpoints, as you need them to understand the Heist which can't be understood from a single viewpoint. This uniqueness(es) of this book enhances the quality and entertaining capacity of this book.
The plot is, as I told you before, is quite unique and the writing style of the author is gripping. The characters are strong and the events are fast-paced which makes the book a page-turner. The best way to read this book is to read it one go which will take maximum 4-5 hours. In this way, you will be able to get the maximum benefit of reading this book. Also, there are few maps given at the start which you must study for 5-7 minutes. Studying the maps will help you understand the events in the story and most importantly the Heist.
Most importantly I would like to tell you that this book is a mixture of fact and fiction. Some things mentioned in this book are true while somethings are just imagination. For Example-
Poppy Flowers, the painting, by Vincent Van Gogh indeed exists and It was stolen from the Cairo's Mohamed Mahmoud Khalil Museum in August 2010. Refer to the link for more details-  https://en.wikipedia.org/wiki/Poppy_Flowers
The presence of the painting in India is just imagination.
Overall, this book is a breathtaking novel which is a must-read for every reader.
Details About The Author-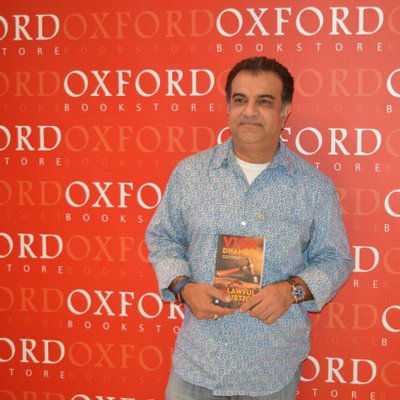 Vish Dhamija is the bestselling author of seven crime fiction books. He is frequently referred to in the press as the 'master of crime and courtroom drama' in India. The Heist Artist is his eighth novel. Vish lives in London with his wife, Nidhi.
Links To Buy The Book-